Don't forget to enter my CSN Stores Giftcard Giveaway. There are lots of ways to enter, click
here
!
So, I have mentioned Petunia Picklebottom before in
this
previous post. Petunia makes the cutest, high end, vintage inspired baby accessories. A few times a year they have an online outlet sale and I am on their email list! Their current sale is going on now and is full of really really good deals, but you have to act quick. The cute stuff is selling out quickly!
They are selling "almost perfect" items at amazing deals (30%, 40%, 60% off and more). You can purchase a "Certified Second" which is a product that has one or more issues that restrict the company from selling them as new or perfect. This may include snags in fabric, minor fabric flaws, sticky zipper, tarnished hardware, sewing machine oil on fabric, damaged packaging, etc. You can also purchase "Discontinued" items which is exactly what it sounds like. Items that are no longer sold in stores.
Here are just a few of the items catching my eye!

Sleepy Santorini Stroller Blanket
Outlet Price $21 (Retail $48)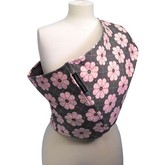 Sojourn Sling
Outlet Price $24 (Retail $72)











Shoulder Bag Diaper Bag
Outlet Price $83 (Retail $177)

Boys Social Set
Outlet Price $19 (Retail $44)





Act quick if you see something you like! They have great "inventory bars" to let you know if something is almost sold out. But, this stuff will go. Until next time...xoxo