So, as I approach my last month of pregnancy, I thought I would share my maternity must haves! In some ways it was kind of liberating to have fewer wardrobe options during pregnancy. Other times, it is a nightmare when you need to have something beyond your "ordinary" every day dress (i.e. suit, fancy dress, etc).
I did make it through with mostly non-maternity shirts which is great. I have worn those shirts to death now so I will likely never want to look at them again, but if I needed/wanted they could be worn in my non-pregnant life!
Consider this list today as my "Tim Gunn like" staples! Every pregnant woman should have the following in her wardrobe!
A black work pant that you LOVE. If you are going to splurge- let this be it. If you don't spend too much- I would suggest buying two pairs. One to wear and one to dry clean! My favorite ended up being pretty cheap from Target. I bought several other pairs, but these ended up being my "go to" black pants. I would have spent more, but
these
babies only cost me $29.99!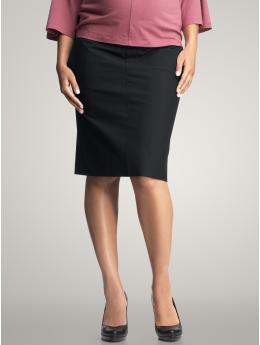 A basic knee length black skirt that you can wear with EVERYTHING. A dress would do too .... and I would actually recommend having both! I live in a jersey skirt that is so comfy. A pencil skirt would be a great option, like
this
gap one. They also have great basic black
dresses
too. You can wear this skirt or a basic black dress with shoes, boots, tights or no tights. Dress it up or dress it down.... trust me you will get tons of wear out of this!
Since I am talking about skirts, I NEED to talk about tights. In my non-pregnant life, I am still in search for the perfect tights. To be perfect tights need to be opaque, non-itcy, comfy (tight enough to stay up, but not too tight). I found the
PERFECT maternity tights
. I live in them. I almost did not buy them because I thought they were expensive, but I am glad I splurged. They too are from Target and are made by Assets (same makers as Spanx). They key to these tights for me is that they come up high (like to your bra) and stay put. They have a tiny hole in them now that I am hoping will not run in the next 4 weeks. I don't want to buy another pair, but I would because I love them!
Get a black jersey (stretch) shirt that is comfortable and can be dressed up or dressed down. I have a cowl neck shirt that I wear constantly with my black skirt. Sometimes I wear a blazer over it. Sometimes I wear a cardigan over it (non-maternity cardigan). Other times I wear with a jersey drape cardigan over it (this is almost my uniform). Get a jersey top that has a little something going on (cowl neck, ruffle, wrap top, etc) and somewhat form fitting, so you don't look like you are drowning in fabric. Use accessories to add the "spice".
This shirt
is right up my alley and can be worn with everything throughout your whole pregnancy! Wear it to work or on the weekend with jeans.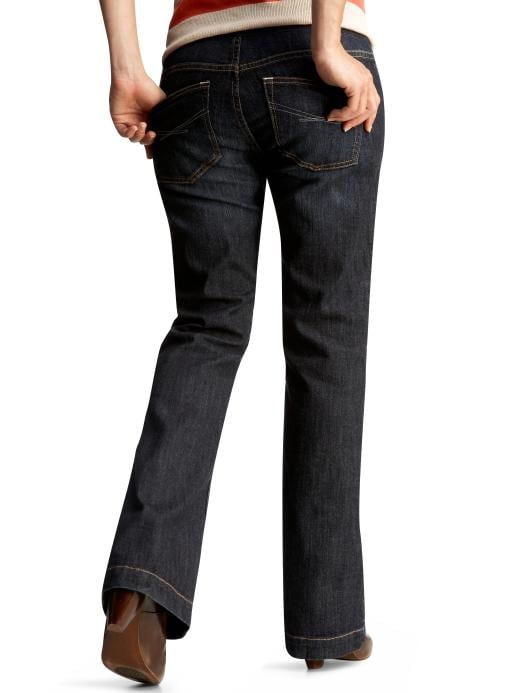 Finally, my 5th must have is a pair of jeans that you love. I made it though my pregnancy with one pair of jeans (not including a copped pair I wore during the summer). I recommend getting a full panel pair. Although they look scary... they are truly what is most comfortable when you get big! Trust me, you will get big. I loved the "demi panel" in my second trimester, but now in the third trimester they hit me in a uncomfortable spot and I wish they came up higher! These
Gap jeans
are perfect, cute and you will get a ton of miles out of them!
If you get these five items, you will have what you need. You can always add in non maternity items with these items including knee high boots, cute flats, cardigans, blazers, scarves, jewelry and more!
While I am on it... these are the items you must have. There are also a TON of items that you do not need. Someone will try to sell you this stuff, but it is a waste of money. Here is my "don't bother" list: maternity underwear (Totally unnecessary- your current low rise skivvies will do.), sweatpants ( Your current drawstring sweats will do. They can be worn lower and pulled as tight as you need.), tank tops (I wear tanks under EVERYTHING and am still wearing my cotton non-maternity ones that I have always worn.).
I have worn my 5 "must haves" to DEATH! Although they have been my favorites- I am definitely ready to get rid of these items and get back into my "real" clothes! If you are preganant... get out there and get these 5 must haves. You can thank me later! Until next time...xoxo