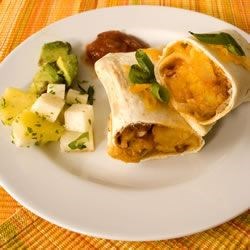 I have initiated meatless Mondays in my house! I decided a few weeks ago that we rely too much on met in our cooking. I wanted to find some good, healthy, filling meatless recipes! :) Now, this is a challenge to do successfully in my home as "the husband" generally categorizes any meal without meat as an "appetizer".
We are still doing
meal planning
in our house and last week was my week. I decided to initiate a veggie meal.... we made Sweet Potato Burritos. They were amazing! I gave them a "9", "the husband" was not as convinced and scored them a "5". I did not care. I will still make them again.... and again... and again. The great thing about these is that you can freeze them too. I have eaten them several days for lunch which is great as I am always looking for an inexpensive, easy lunch option!
The spices give great flavor! I was not sure about mixing beans with sweet potatoes, but it works perfectly! I served them with sour cream, but a fresh salsa could work too. Here is the recipe:
Directions
Do you guys rely on meat for all your meals? Summer is the perfect time to try out some veggie options! Get creative... try Meatless Mondays for yourself!