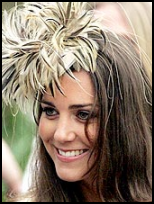 Do you know what a Fascinator is? If you are following Kate Middleton's style in depth then you must know! :) A fascinator (per wikipedia) is a
delicate, slightly-to-very frivolous head decoration.
Modern fascinators are commonly made with
feathers
,
flowers
and/or
beads
. They attach to the hair by a
comb
,
headband
or
clip
. In my own words I would say that it is a head accessory that falls somewhere between hat and headband! :)
Kate Middleton rocks the fascinator often and well! She has a great personal sense of style that I am sure will now only get better! :) If fascinators were not popular before ... I am sure they will be now.
Here is how Kate wears it!
She has even inspired Harry's lady.... Chelsea!
If you are wanting a fascinator for yourself... check out Etsy! Here is a sampling of some Etsy options!
I can only imagine that she will wear some sort of statement headpiece at her wedding.... it is her style calling card! Only a few more weeks and we can see! Until next time....xoxo