So, I was realizing recently that I never blogged about Christmas. This is surprising as my husband did EXTREMELY well this year.... like so well it will be hard to beat next year.
I got theseTory Burch flats that I had always coveted but was way to cheap to buy myself. I had dropped some hints about these, but never thought he would buy them for me. He always said he would NEVER buy me shoes as he thinks I have too many. Too many? Really! :) These flats are so comfy, so versatile and so damn cute. I love em'!
I also was shocked when he pulled out a Burberry gift bag. Love Burberry, but it is hard to find anything in that store less than $300. He picked out this shirt for me all by himself and I adore it. I love Tunics. I love that it has a hint of the classic burberry plaid. I am saving it to wear some day when I won't be covered in druel, cheerios and god know what else!
Finally, I got some perfume from my favorite scent spot L'Occitane! I love the scents at L'Occitane which I have talked about before. Their scents smell fresh and clean and not too chemically! He got me Pivoine Flora Eau de Parfum. It is floral, but light and smells like actual flowers.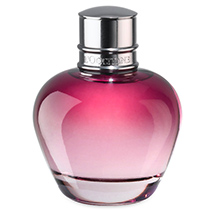 Well done honey, well done. You scored a perfect 10 on in the category of gift giving this year. I am one lucky woman!
Until next time....xoxo