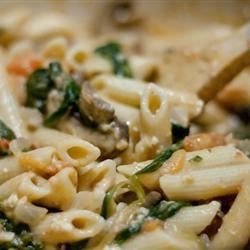 Today is Monday which means another "meatless Monday" recipe. As I mentioned last week, I am trying to incorporate more vegetarian meals. But, vegetarian meals that meat lovers will love. We are meat eaters and that will not change... but everything in moderation, right?
So, last week's recipe can be found here! The second "meatless" recipe I cooked is this veggie pasta. I found it through a quick google search on All Recipes. It is Suki's Spinach and Feta Pasta.
The husband (who demands meat in meals) loved this recipe and gave it a 9. I gave it a 7. My sister and her husband also cooked it and they gave it a 8 and 7 respectively. So, I would say this is a good and flavorful pasta option. It is best eaten the day of. It was not as good as leftovers- which is strange ... pasta is usually better the next day... right? It lost some of its flavor when eaten for lunch the next day!
Do you love meatless Monday? Have a great recipe, send it my way! Until next time...xoxo