As I mentioned last week, my friend "E" is expecting! We were recently discussing the nursery. Decorating a nursery is so much fun! Having just had a baby, I can tell you that there are some lessons learned on the nursery front. I of course will share just a bit of my wisdom! :)
Lesson #1:
You do not need to spend a lot on a crib. This cute modern grey crib is $200 bucks. I bought my crib at Target for $300. It is great and I truly think there is no need to spend $800 plus dollars on a fancy crib. There are a ton of inexpensive options out there! Find
Crib
here!
Lesson #2:
Skip bumpers! Bumpers are a marketing ploy. Seriously, they are. I am not sure why they even sell them. They are dangerous and every pediatrician will tell you to wait until 1 year before you put them in the crib. Now, as a mom of a 10 month old- I can tell you at 1 year I already know that Avery will use them to climb out of the crib. So, bumpers... useless! The window for using them is small and they are pricey. Skip it! Go with a cute bedskirt (if your crib allows) and cute colorful sheets (100% cotton). Find cute solid colorful sheets and bedskirts
here
! or find a cute pattern at many of the other hot kid stores!
Lesson #3
: You can never and will never have enough storage. When you think you have enough storage- get more! Book, toys, binkies, diapers, creams, medical supplies, hats, blankets, etc, etc, etc. You get the idea ... babies come with a lot of stuff! Set the closet up for storage (baskets), get a couple hampers (yes you will be doing a lot of laundry), and come up with a system for diapering stuff! You will have a lot of books and toys! Have a place to keep books that are easy to access at bedtime. I love
these
book slings for books! This is a great
DIY project
...you don't even have to sew.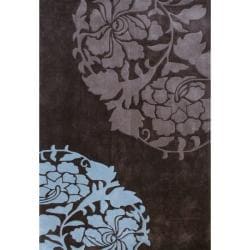 Lesson #4:
Get a rug that is not white (or very very light)! I have a rug that is super cute, but it is white and looks flithy all the time. We have had code white (projectile spit up) and code brown (needs no explanation)... and the rug has lived to tell. Do yourself a favor and get a darker color and a pattern will only do you right also!
Also, stick with something that will last you into toddler-hood and even childhood...you will feel less guilty spending a few bucks! Overstock has some great options like this
one
!
Lesson #5:
Avoid the wicked ugly glider and get yourself something cute that you are not going to hate looking at!
I actually have a regular chair (not rocking) and have been fine. But, if you want a rocker (which many fussy babies like) get something cute. You can get a non upholstered rocker and just add some cute pillows to make it more comfy.
This modern rocker
is all the rage these days and would be super cute in a nursery! You can find some great rockers at antique stores too. Now,
i
f you are going to spend money for a upholstered glider... spend a little extra to get a nice tailored one you would put in another room when done in your nursery. You know... something that does not scream "utilitarian glider" and is not only comfy but also cute.
Okay, those are just a few of my lessons learned. Take em' or leave em'! Until next time... xoxo