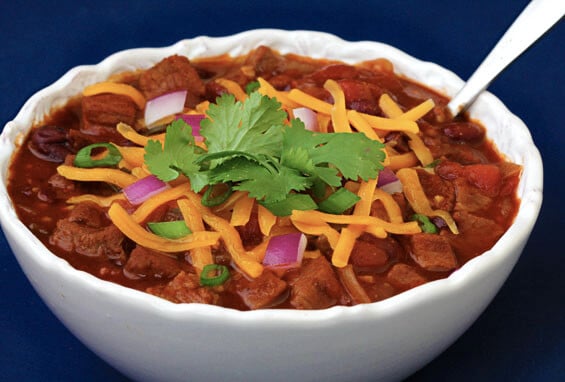 Okay I tried out a meatless recipe this weekend that I intended on sharing today, but it was not GREAT. So, instead I am sharing the exact opposite of meatless Monday.... MEATY Monday. The husband and I have been on a constant search for a great chili recipe.... like really really great. Chili is kind of like pizza... even when it is bad it is fine, But, we wanted AMAZING hearty, thick, meaty, flavorful, slightly spicy chili. We found our recipe.....it was so delicious. I found it on "Gimme Some Oven"... yes love the name!
We made a few substitutions...
3 Tbsp. olive oil

1.5 – 2 lbs. lean beef (or you can use pork). We got steak and cut it up.
1 medium white or yellow onion, chopped
1/2 a jalapeno pepper, seeded and finely diced
1 green Pepper (or Poblano)
5 cloves garlic, peeled and minced
2 Tbsp. chili powder
1 Tbsp. ground cumin
2 tsp. dried oregano
2 tsp. sugar
2 cups beef broth
2 cups water
1 (15 oz.) can black beans, drained and rinsed
1 (15 oz.) can Rotel (diced tomatoes and green chiles)
1 (8 oz.) can tomato sauce
2 Tbsp. balsamic vinegar
Method:
Heat 2 Tbsp. oil in a large skillet over medium-high heat. Add the meat (beef or pork) and cook until just browned on all sides. Then remove meat with a slotted spoon and set aside.
In a large stock pot (or dutch oven) heat the additional 1 Tbsp. oil over medium heat. Add the onions, poblano and jalapeno peppers, and saute until softened, about 4 minutes. Add the garlic and spices and saute until very aromatic, about 1 minute more. Add in the beef broth, water, beans, Rotel, tomato sauce, vinegar and browned meat, and stir to combine.
Simmer over medium-low heat for a couple of hours (We did 3 hours covered, one hour uncovered).
To serve, ladel soup into bowls and top with desired toppings.
We a few changes from the original recipe (posted on Gimme Some Oven). We omitted the Poblano pepper because we could not find it at our grocery store. Chipotle Powder was also omitted. It was like 8 bucks for a large thing and we thought we would never use it again, so just left it out. Yep, we were cheap. We did not have to add flour or cornstarch as we left it simmering for several hours and it thickened right up. Next time I might think about adding a can of kidney beans ... just to get a little more bean action going on.
This Chili Recipe is a 9 in my book. Definitely the best one we ever made! We are having it over hot dogs tomorrow night... chili dogs.. yumm! Definitely not a meatless week... oh well. For those of you who are meatless, try the sweet potato chili I blogged about in the past. It is also quite amazing.